We offer top-notch professional makeup training and certifications for all levels of students. Moreover, we provide hands-on training and industry insights to give our students exposure to the latest trends and techniques. Our beauty course in Chandigarh is perfect for aspiring makeup artists or those seeking to work in the film, TV, or theater industry.
Newcomers to the world of cosmetics can find themselves overwhelmed by the endless varieties of makeup and styles available. But fear not! Learning the basics of makeup application is simple and easy with the right guidance.
Elevate Your Skills with a Beautician Course in Chandigarh
Knuckout is a leading professional beauty and makeup academy in Chandigarh. We offer a diverse selection of beauty courses designed to cater to your specific interests and career aspirations. Whether you're a beginner or an experienced professional seeking to upgrade your skills, our academy has the perfect program for you.
At Knuckout, we believe in offering a holistic learning experience. Alongside our makeup artist courses, we provide a wide range of beauty courses in Chandigarh. From nail art & hairdressing to beautician & hair styling, our comprehensive curriculum ensures that you receive a well-rounded education in all aspects of beauty.
Discover a wide array of comprehensive beauty and makeup classes in Chandigarh at Knuckout Academy. Our curriculum is designed to offer diverse programs, ensuring that you find the perfect course to match your interests & career goals.
Makeup Artist Courses in Chandigarh for Aspiring Professionals
Our makeup artist courses in Chandigarh are carefully curated to equip you with a solid foundation in makeup artistry. From understanding the fundamentals of makeup application to mastering professional bridal makeup, our experienced instructors will guide you every step of the way. Join and learn the art of creating stunning looks for various occasions, including bridal makeup, editorial shoots, special events, etc.
Advanced Makeup Courses in Chandigarh for Professional Growth
For those who want to take their makeup skills to the next level, we offer advanced makeup courses in Chandigarh. These courses delve deeper into specialized areas of makeup artistry, like special effects makeup, high fashion/editorial makeup, and airbrush makeup. Expand your repertoire, refine your techniques, and elevate your career prospects with our advanced makeup courses.
Professional Nail Art Course in Chandigarh for Creative Nail Artistry
If you want to flourish your interest in nail art then our nail extension course in Chandigarh is the perfect choice for you. Learn the latest techniques in nail art and nail extension, acrylics, gels, and nail embellishments from our experienced instructors. Enhance your skills and unleash your creativity to create stunning nail designs that will leave a lasting impression.
Hair Stylist Course in Chandigarh for Trendsetting Hairstyling
Become a trendsetting hair stylist with our hair stylist course in Chandigarh. From classic cuts to contemporary styles, learn the art of hairstyling, coloring, and hair treatments from industry experts. Gain hands-on experience and develop the skills necessary to create stunning hairstyles for any occasion. Whether you aspire to work in a salon, fashion industry, or pursue freelance opportunities, our hairdressing course will prepare you for success.
Why Choose Us for Your Beauty Education?
Expert Faculty and Industry-Standard Infrastructure
We take pride in our team of highly skilled instructors who bring extensive experience and industry knowledge to the classroom. Furthermore, our faculty is dedicated to nurturing your talents and pushing you to reach your full potential. Additionally, our state-of-the-art infrastructure and modern facilities provide you with a comfortable and inspiring learning environment.
Customized Learning Paths for Individual Growth
We understand that every student has unique goals and aspirations. That's why we offer personalized learning paths to cater to your specific needs. Whether you're looking to specialize in bridal makeup, nail art, or hair styling, Knuckout can give you the right guidance. Our academy provides flexible course options that allow you to tailor your education based on your interests and career objectives.
Industry Exposure and Placement Opportunities
As a student at Knuckout Academy, you'll benefit from our strong industry connections and collaborations. We regularly organize workshops, masterclasses, and guest lectures featuring renowned professionals in the beauty and fashion industry. Moreover, our academy maintains close ties with leading beauty brands, salons, and fashion events, providing you with excellent placement opportunities upon graduation.
Now, you have the perfect opportunity to pursue your dreams and become a skilled makeup artist, nail technician, or hairstylist. Enroll in our academy today and unlock your true beauty potential.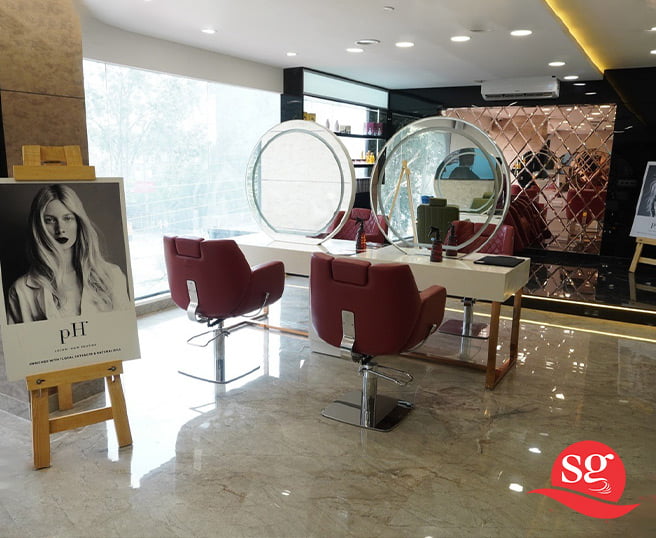 Where To Locate Us
Enroll in our esteemed nail extension course, beauty therapy class, and overall makeup artist courses in Chandigarh to become a professional makeup artist.